Bicycle Technical Support Specialist
Bicycle Technical Support Specialist
enviolo
Zwolle
What is required?
Minimum of 3 years experience in a similar or related customer support role
Strong technical experience, preferably in the bike industry
Excellent command of the English, Dutch and German language, both written and spoken
Excellent communication skills
Customer-orientated, empathetic and problem-solving
What will you get?
40-hour working week
25 days paid time off and 10 paid holidays
Bike purchase program (after 6 months of permanent employment)
Fitness Reimbursement and Sabbatical Program
What will you do?
40% Answering the phone
30% Answering emails
25% Reviewing and handling warranty cases
5% 'enviolonizing' bikes
This vacancy has been created based on interviews with employees to help you get a realistic preview of the job.
Vacancy
As Bicycle Technical Support Specialist at enviolo, you are responsible for giving technical assistance to customers by phone, email and other communication channels. These customers can be manufacturers who use enviolo products for their bikes, but you are also in contact with bicycle dealers and bike owners. Together with the customer, you locate the problem and provide the necessary technical information to fix the problem.
In addition, you collect warranty data in order to complete a warranty case. Customers have a two-year warranty, but must always provide proof of purchase and other data. You are responsible for reviewing and handling these warranty cases. You record your findings and actions accurately in the CRM system and if required, you send the customer a new part from the warehouse. You are also responsible for investigating the parts that are sent back by customers. If a problem occurs on a structural basis, you ensure that it is addressed by one of your colleagues.
You also carry out technical tasks, such as 'enviolonizing' bikes of potential customers. This means you will rebuild an existing prototype bike and install the products of enviolo, so that the potential customer can test the product.
You are part of the Technical Support Team, consisting of four technical support colleagues and the manager. Moreover, you work closely with your colleagues in the warehouse and the Quality Team.
Note: if you apply for this job, please also send a cover letter to [email protected].
If you like solving technical problems remotely, and if you find it a challenge having to deal with many different cases, then this is a job for you.
Calendar
Bicycle Technical Support Specialist

On an enjoyable day you can help many customers, who are very happy that their bicycle is working properly again. You also successfully install enviolo parts on a prototype bike.
On a less enjoyable day, customer problems are difficult to solve remotely. You have to reject a warranty request from a customer. Fortunately, you can explain why you made this choice.
08:00

09:00

10:00

11:00

12:00

13:00

14:00

15:00

16:00

17:00

18:00

19:00
A customer is calling you: they mention that a new bike is not working as it should. What do you do?
Together with the customer, you try to figure out what the problem is. You check if all the installation steps have been carried out correctly and if anything needs to be adjusted. You also check the electronic system, to see if all settings have been entered correctly. If the problem cannot be solved remotely, you start the warranty procedure and send a new part to the customer. You also make sure you receive all the necessary warranty data.
Growth
If you want to grow, develop yourself or take on more responsibility: enviolo offers you the opportunity to do so. We believe in investing in our employees. That investment could be in providing coaching and mentorship opportunities to our future leaders. Or the investment could be in more personalized development plans, customized for each individual, based on their personal and professional goals and aspirations.
Bicycle Technical Support Specialist
Working at enviolo
enviolo products and services empower bike manufacturers to build bikes that change people's lifestyles: taking fewer trips in cars and more trips on bikes. A smart range of stepless shifting hubs have been designed to serve different rider needs. Riding a bike with enviolo's technology means concentrating less on shifting and more on your ride, resulting in a safer and more pleasurable experience.
Together with OEM and retail partners, enviolo strives for strategic collaborations aimed to grow the premium e-bike segment. Over 100 OEM brands are making enviolo equipped bikes: more than 1 million consumers ride on enviolo equipped bikes.
The Company Values of enviolo are 'P.L.A.Y.': Passionate: we do not stop until we get it right. Loyal: we are faitful to our people, to our relationships, to our commitments. Authentic: no BS, no exaggeration. Joyful: we choose everyday.
HQ in Amsterdam

International customer base

36+ employees in the Netherlands

65+ employees worldwide

29% / 71%

Average age 42

Smart Business Casual
Colleagues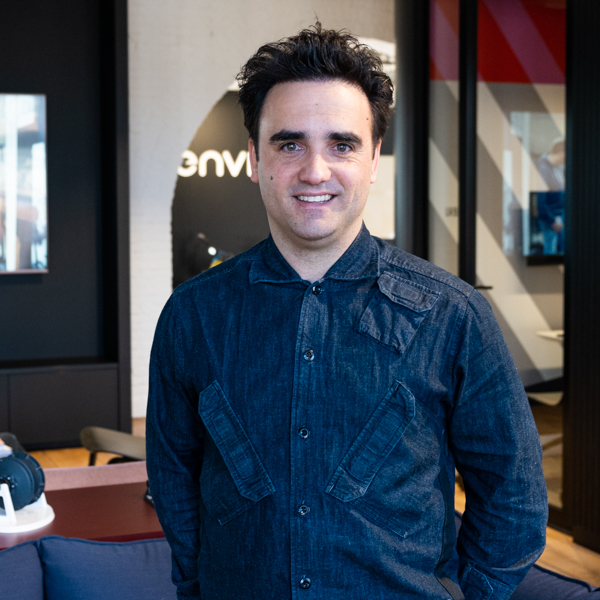 Billy van den Ende - Director of Brand Experience & Product Management
Why did you decide to work for this company?
At enviolo every day is a truly different day. The product is fascinating, the people are amazing and the eBike industry is and will continue to grow fast. Working at enviolo has all the ingredients that I have ever looked for in a job.
What was your previous job?
Country Manager Benelux - Canyon Bicycles.
What do you do in your spare time?
Spending time with my friends both on - and off the road or mountain bike.